Arreaza Law Firm, LLC.
320 West Oakland Park Blvd.
Wilton Manors, Fl 33311
954-565-7743
South Florida Law Firm
About The Arreaza Law Firm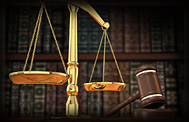 The ARREAZA LAW FIRM has represented individual charged in cases with offenses such as: State and Federal cases Violation of Probation Murder Burglary Sex Crimes Armed Robbery DUI Fraud White collar offenses Drug related offenses Our firm will walk you through your difficult experience, answering your questions and keeping you up on your case. Let our experience and knowledge work for you.
Florida Certified Mediator '''''' Home ARRESTED ? (The resolution to your situation begins here) If you have reached this site it's probably because you or someone close to you has been arrested and you are looking for a criminal defense attorney to help you through your problem.. The first thing you must do is take a big breath you made the right decision in coming to this site.
WHAT TO DO WHEN YOU ARE FIRST ARRESTED: Being arrested can be a frightening experience for an individual as well as their family. The first thing that the individual person as well as the family must do is not panic. Decisions made at this point are crucial and must be though through.
The first instinct is to get the person out of jail. The safest way is to bail the person out of jail by posting the bond or getting a bail bondsman. If the arrest is in Broward county the individual will go through magistrate within hours of arrest.
The individual looking to get the person out of jail or getting information on case will go to room 241 on the second floor of the central courthouse. The person arrested will go before a judge and you will be able to see them through a television. If you are in another county call the jail and ask them where magistrate will be held.
This is the first time a person goes before a judge. They will be frightened and scared. The judge will read the charges and they will be told what bond is. At this point a person will do anything to get out of jail even take a plea that will effect them for the rest of their life. That is why no plea should be taken before the individual sees an attorney and discusses the consequences of accepting such a plea. Make sure the attorney has experience such as yours.
Tell us about your case.